Many of us are more capable than some of us,
but none of us is as capable as all of us.
- Tom Wilson

Think teamwork, think dragon boat racing
South Africa's dragon boat community in Gauteng Province held its first regatta on Bruma Lake, Johannesburg in 1999, the event attracted hundreds of athletes in and around the province, they celebrated the cultural diversity and the challenging spirit driven by the colourful festive sport. This followed the introduction of dragon boat racing in Cape Town as early as 1992.

More and more groups joined the sport, Gauteng Dragon Boat Association (GDBA) was founded in year 2000 to cater for all who wish to develop social blending, teamwork, group bonding, mutual support, trust and increased camaraderie among colleagues and partners.

Over the years, our kids have learned a great deal about commitment, adoption of a constructive, optimistic lifestyle, positive striving spirit and to accomplish higher achievement in life.

Dragon boat racing is such an unique sport that it has repeatedly demonstrated its charm in tourists attraction worldwide and brought many cities to live!
A dragon boat dashes forward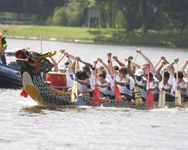 WHAT IS DRAGON BOAT RACING?
Dragon boats are slim, traditionally teakwood (often now fiberglass) racers with a hand-painted dragon's head at the prow and a flashy tail at the stern. Decorated in brilliant Chinese colors, each boat holds a crew of 18 sitting side by side, a steersperson at the rudder, a drummer whose beat sets the pace for the crew and a flag-catcher at the head of the boat. Dragon boat racing is unique for the speed of fast paddling.
Dragon boat racing originated from China some 2 300 years ago as a traditional ceremonial sport; today, it is being raced worldwide to test sportspersons' physical strength, challenging spirit and group bond.